Nickel Mines in the Philippines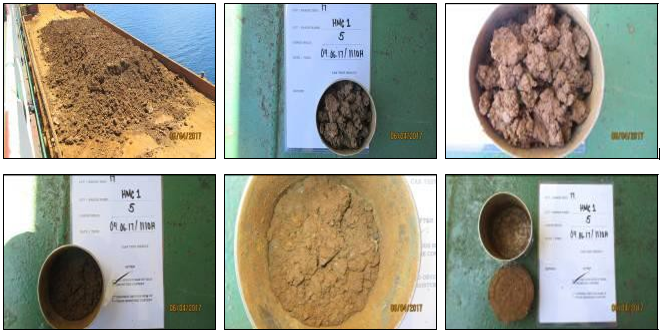 Caraga Region is located at northeastern part of Mindanao. It has five (5) provinces, namely: Dinagat Province, Surigao del Norte, Surigao del Sur, Agusan del Norteand Agusan del Sur. Caraga Region is now hosting several mining projects producing various mineral commodities particularly but not limited to gold, copper, chrome, nickel, iron and limestone for concrete cement production. It is one of the regions notably located in the eastern seaboard of the Philippines. With its geographic location facing the Pacific Ocean and famous Philippine Trench, the Region is prone to various weather conditions and geologic phenomenon like, but not limited to, typhoon, tsunami and other coastal surges and seismic activities. With these, DENR-MGB13 is expeditiously utilizing its human and financial resources to generate geohazard maps as necessary source of information to spatial planners and other government and non-government agencies working for public safety and disaster management. Caraga Region is situated in the Samar – Surigao segment of the Eastern Bicol – Eastern Mindanao ophiolite belt, one of the nine (9) major ophiolites. Ophiolites, particularly the ultramafic member of the assemblage, are of economic significance as they play host to two strategic ferro-alloy metallic commodities namely nickel and chromium. Large tracts of ultramafic terrains are exposed in the province of Surigao del Norte, and northern Surigao del Sur, a majority of which are within the Surigao Mineral Reservation (SMR).Minor occurrences can also be found in the western range of Agusan del Norte. The nickel resources of the region are in the form of nickeliferous laterites, soils of unique geochemistry derived from the tropical weathering of parent serpentinized ultramafites.Two types of nickel ore are of commercial importance, limonite (oxide) ore and saprolite (nickel silicate) ore.
Nickel content is higher in the saprolite zone although cobalt is an important by-product of the limonite horizon. Potential is high in Surigao del Norte and northern Surigao del Sur particularly in Dinagat and Nonoc group of islands as well as in Claver – Carrascal area, Surigao mainland.
NICKEL ORE MINES IN THE CARAGA REGION
Surigao Del Norte
Adnama Mining Resources Inc. — Urbiztondo, Claver, Surigao del Norte
Hinatuan Mining Corporation – Talavera, Hinatuan Island, Surigao del Norte.
Platinum Group Metals Corporation – Cagdianao, Claver, Surigao Del Norte
Taganito Mining Corporation – Hayanggabon, Claver, Surigao Del Norte
Dinagat Islands
AAMPhil Natural Resources Exploration and Development Corporation – Claver, Surigao Del Norte
Cagdianao Mining Corporation – Valencia, Cagdianao, Dinagat Islands
Century Peak Corporation (Rapid City Nickel Project and Casiguran Nickel Project) – Dinagat Islands
Oriental Synergy Mining Corporation — Loreto, Dinagat Islands
Wellex Mining Corporation — Dinagat Islands
Surigao Del Sur
Carrascal Nickel Corporation – Carrascal, Surigao del Sur
CTP Construction and Mining Corporation/Adlay Mining Project – Adlay, Carrascal, Surigao Del Sur
CTP Construction and Mining Corporation/Dahican Nickel Project – Dahican, Carrascal, Surigao Del Sur
Marcventures Mining and Development Corporation — Cantilan, Carrascal, Surigao del Sur
VTP Mining and Construction Inc. – Adlay, Carrascal Surigao Del Sur
Agusan Del Norte
SR Metals Inc. – Tubay, Cabadbaran, Agusan Del Norte
Agata Mining Ventures, Inc. – Tubay, Cabadbaran, Agusan Del Norte
NICKEL ORE MINES IN THE ISLAND OF PALAWAN
Palawan is an archipelagic province of the Philippines that is located in the MIMAROPA Region. It is the largest province in the country in terms of total area of jurisdiction. Its capital is the City of Puerto Princesa, governed independently by the province as a highly urbanized city. The islands of Palawan stretch between Mindoro in the northeast and Borneo in the southwest. It lies between the South China Sea and the Sulu Sea and is named after its largest island, Palawan Island (09°30′N 118°30′E) having a total land area 450 km (280 mi) long x 50 km (31 mi) wide.
Listed hereunder are the mine-sites that are currently in operation as follows:
Berong Nickel Corporation – Berong, Quezon, Palawan
Coral Bay Nickel Corporation – Rio Tuba, Bataraza, Palawan
Citinickel Mines and Development Corporation – Narra, Palawan
Citinickel Mines and Development Corporation – Sofronio Espanola, Palawan
Rio Tuba Nickel Mining Corporation – Rio Tuba, Bataraza, Palawan
NICKEL ORE MINES IN TAWI-TAWI (ARMM)
Tawi-Tawi is an island province of the Philippines located in the Autonomous Region in Muslim Mindanao (ARMM). The capital of Tawi-Tawi is Panglima Sugala and the province is the southernmost in the country. To the northeast lies the province of Sulu and to the west is Sabah in Malaysia.
Tawi-Tawi also covers some islands in the Sulu Sea to the northwest, the Cagayan de Tawi-Tawi Island and the Turtle Islands, just 20 kilometers away from Sabah. There are Three known Nickel Ore Mine-sites operating in Languyan (which is a first class municipality) in the province of Tawi-Tawi, Philippines.
The mine-sites are accessible by commercial flights via Manila-Zamboanga; Zamboanga-Bongao, Tawi-Tawi. From Bongao, Tawi-Tawi, surveyors need to travel by sea for 6 hours to the Municipality of Languyan where the mine-sites are located. Due to the instability of peace and order situation in the area, surveyors are required to be escorted by police personnel for a safe arrival.
Below is list of the Nickel Ore Mine-sites currently operating in the area for your ease of reference:
Al-Tawitawi Nickel Corporation – Tumbagaan Island, Languyan, Tawi-Tawi
SR Languyan Mining Corporation – Tumbagaan Island, Languyan, Tawi-Tawi
Pax Libera Mining Inc. – Languyan, Tawi-Tawi
INCREASING OF THE SHIPMENTS
Yes, we are expecting an increase in the shipment of Nickel Ore this year. Annually, large scale mining companies continue to increase the volume of nickel ore shipments in spite of the current low prices. Operations continue to remain profitable as to their position as low-cost producer in mining operations similar to the case of Nickel Asia Corporation (Owner of 4 operating mines) the biggest producer of nickel ore in the Philippines in which this would be their 9th year of increased production and shipment volumes. However, the increase of shipments still depends on the duration of loading operation and weather conditions beyond the target tonnage of exports for the mining season.
Thus, Chinese makers use a polluting process involving sticking cheap imported pig iron into blast furnaces to separate out the nickel. Given China's move to crack down on environmental hazards, Beijing may eventually put stop to this.
Nickel demand is admittedly not super strong but proves to be very promising. Again, much depends on China who is responsible for more than half of all consumption. Chinese demand should grow 6 per cent annually over the next two years, according to Goldman Sachs. Also, nickel demand from battery makers could take up some slack if projections of rapid growth of electric cars prove accurate.
CURRENT CONDITION OF THE CARGO
Basically, there are no significant changes on the condition of the cargo in comparison to previous loading seasons. To begin with the Lateritic Nickel Ore are distinguished into two types as follows;
Limonite Type laterites (or oxide type) are highly enriched in iron due to very strong leaching of magnesium and silica. They consist largely of goethite and contain 1-2% nickel incorporated in goethite. Absence of the limonite zone in the ore deposits is due to erosion.
Silicate Type (or saprolite type) nickel ore formed beneath the limonite zone. It contains generally 1.5-2.5% nickel and consists largely of Mg-depleted serpentine in which nickel is incorporated. In pockets and fissures of the serpentinite rock green garnierite can be present in minor quantities, but with high nickel contents – mostly 20-40%. It is bound in newly formed phyllosilicate minerals. All the nickel in the silicate zone is leached downwards (absolute nickel concentration) from the overlying goethite zone.
Hence, the chemical and physical appearance of the two types of nickel ore differs based on our experience and previous loading surveys from different loading ports. It was noted that Limonite type of nickel ore contains less moisture and much easier to load than Silicate or Saprolite type of nickel ore.
These circumstances could be attributed to the volume of the cargo reserve at the stockpiles of the cargo in which Saprolite nickel ore has lesser volume production but is more in demand to the buyers. In addition, different mining methods are used in different areas, which lead to variations in the physical consistency and moisture content of the cargo. We attached hereunder photos of our recent loading surveys in Surigao, Philippines depicting the actual current condition of the cargo nickel ore in bulk.
Photos below depicting cargo for loading showed no obvious sign of excessive moisture content after can test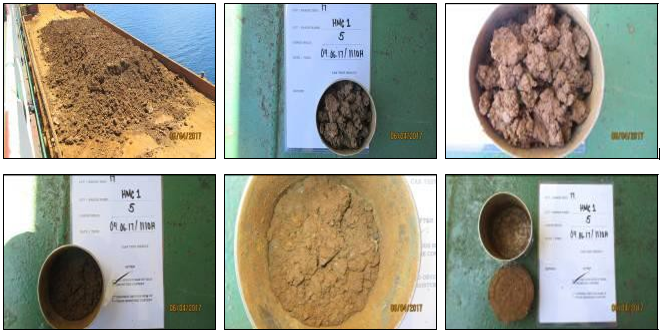 Photos below depicting rejected cargo showed obvious sign of excessive moisture content after can test
Photos below depicting cargo for loading showed no obvious sign of excessive moisture content after can test
Photos below depicting cargo for loading showed no obvious sign of excessive moisture content after can test
Photos below depicting cargo for loading showed no obvious sign of excessive moisture content after can test
Photos below depicting cargo for loading showed no obvious sign of excessive moisture content after can test
Nonetheless, the actual moisture content is unknown to surveyors, although based on the can test and visual inspection carried out by the surveyors and duty Officers of each vessels, the actual condition of the cargo is near its transportable moisture limit.
MINES SUSPENSION
The Department of Environment and Natural Resources (DENR) under the previous leadership of Secretary Gina Lopez announced the closure of 21 mining firms after allegedly found severely damaging the environment. Illegal cutting of trees, contamination of rivers and destruction of watersheds are some of the violations allegedly committed by the mining firms closed by DENR.
Please see hereunder the complete list of Nickel Ore Mining Companies subjected for closure and suspension by the Department of Environment and Natural Resources (DENR).
FOR CLOSURE
STA. CRUZ, ZAMBALES
Benguet Corp Nickel Mines
Eramen Minerals
Zambales Diversified Metals
LNL Archipelago Minerals
DINAGAT ISLANDS
AAMPHIL Natural Resources Exploration
SinoStreel Philippines H.Y. Mining Corporation
Oriental Synergy Mining Corporation
Wellex Mining Corporation
Libjo Mining Corporation
Oriental Vision Mining Philippines Corp.
SURIGAO DEL NORTE / DEL SUR
ADNAMA Mining Resources Corporation.
CLAVER Mineral Development Corp.
Platinum Development Corp.
CTP Construction and Mining Corp.
Carrascal Nickel Corporation
Marcventures Mining and Development Corporation.
Hinatuan Mining Corporation.
FOR SUSPENSION
PALAWAN
Berong Nickel Corporation
Citinickel Mines and Development Corp.
PASSED THE AUDIT
SURIGAO DEL NORTE
Taganito Mining Corporation
Platinum Group Metals Corporation
AGUSAN DEL NORTE
SR Metals, Inc.
Agata Mining Ventures, Inc.
TAWI-TAWI
Altawi-Tawi Nickel Corporation
SR Languyan Mining Corporation
Pax Libera Mining Inc.
However, all nickel ore mining companies in the Philippines excluding the mining firms in Zambales are continuously producing, shipping and operating as usual at present time after filing an appeal to the Office of the President, and with the recent replacement of the appointed head of the DENR, the agency has shifted to a "Business-Friendly" stance, though stands firm on the general guidelines for "Responsible Mining" and will strictly enforce mining and environmental regulations. Hereunder we quote part of an article at Business World online;
"The DENR noted the agency's investor-friendly initiatives including assuring foreign investors that the agency will continue to push for clean energy and promote proper management of water resources and solid waste. The DENR also committed to its role in facilitating the ease of obtaining environmental clearances for investors like recently introducing some improvements in the implementation of the Environmental Impact Statement system, as well as in the processing and issuance of tree cutting permits for development projects. "One, we have provided facilities for online application for environmental compliance certificate to shorten the process. Two, authority to issue cutting permits of planted trees has been delegated to the regional office. Further delegation to the PENRO (Provincial Environment and Natural Resources Office) and CENRO (Community Environment and Natural Resources Office) is being considered," Mr. Cimatu was quoted as saying." Unquote
SHIPPER'S STOCKPILES AND SAMPLES REQUIREMENT
Very little processing takes place, it is usually dug up, ground/sorted for size and stored in stockpiles locally known as "Lots". Local mining firms in the Philippines use open-air stockpiles in order to solar-dry and lower the moisture content of the recently mined ore, however, it also means that they are subject to all weather conditions though it is the shipper's practice to cover all open-air stockpiles using large/modified tarpaulins in order to prevent moisture addition during periods of rainfall.
For each parcel to be carried, certain data must be determined. The Flow Moisture Point ("FMP") is the percentage moisture content at which a flow state is attained. From this figure, the Transportable Moisture Limit ("TML") can be determined which is 90% of the FMP, and represents the maximum moisture content of the cargo to be considered safe for carriage. The actual moisture content of the cargo must also be determined.
These figures must be determined by testing samples which are fully representative of the particular cargo to be carried. Section 4.4 and 4.6 of the IMSBC Code sets out a "best practice" sampling procedure that the shippers follow in which we quote sec.4.6 hereunder.
4.6 Sampling procedures for concentrate stockpiles
"4.6.1 It is not practicable to specify a single method of sampling for all consignments since the character of the material and the form in which it is available will affect the selection of the procedure to be used. In the absence of internationally or nationally accepted standard sampling procedures, the following sampling procedures for concentrate stockpiles may be used to determine the moisture content and the TML of mineral concentrates. These procedures are not intended to replace sampling procedures, such as the use of automatic sampling, that achieve equal or superior accuracy of either moisture content or TML.

4.6.2 Sub-samples are taken in a reasonably uniform pattern, where possible from a levelled stockpile.

4.6.3 A plan of the stockpile is drawn and divided into areas, each of which contains approximately 125 t, 250 t or 500 t depending on the amount of concentrate to be shipped. Such a plan will indicate the number of sub-samples required and where each is to be
taken. Each sub-sample taken is drawn from approximately 50 cm below the surface of the designated area.

4.6.4 The number of sub-samples and sample size are given by the competent authority or determined in accordance with the following scale:

Consignments of not more than 15,000 t:
One 200 g sub-sample is taken for each 125 t to be shipped.
Consignments of more than 15,000 but not more than 60,000 t:
One 200 g sub-sample is taken for each 250 t to be shipped.
Consignments of more than 60,000 t:
One 200 g sub-sample is taken for each 500 t to be shipped.

4.6.5 Sub-samples for moisture content determination are placed in sealed containers (such as plastic bags, cans or small metallic drums) immediately on withdrawal for conveyance to the testing laboratory, where they are thoroughly mixed in order to obtain a fully representative sample. Where testing facilities are not available at the testing site, such mixing is done under controlled conditions at the stockpile and the representative sample placed in a sealed container and shipped to the test laboratory."
A cargo's TML must be determined within the six months prior to loading. A test for the actual moisture content must be carried out within the 7 days prior to loading. However, shippers sometimes state that their stockpiling arrangements make it impractical to take representative samples prior to loading, and instead propose that samples be drawn during the loading process itself.
This is common practice for sampling for the purposes of the contractual quality specifications. Though, such proposals are not compatible with the shipper's certification obligations under the IMSBC Code as discussed above, there have been many instances where information provided by the shipper has stated that the cargo has been within the TML, but actually proven to be beyond its TML after applying "can" test method of loading protocol.
Please see attached photos of open-air stockpile for ease of reference; (Credits to the owner)
ANY PROHIBITION TO SURVEYOR BY THE SHIPPERS
In fairness to Local shippers, we, from Ocean Maritime Surveying Specialist Inc., have so far never experienced any prohibitory actions from them to carry out Club/Members instructions to refuse/reject to load cargo that is suspiciously unsafe/unfit for carriage. In respect of conducting inspections at the stockpiles, surveyors are required to arrange with the mine-sites for inspection in advance as a matter of policy, which may be approved or declined by the shippers. If stockpile inspection is approved, the same has to be strictly conducted in the presence of their representatives.
However, based on information we gathered from local sources, one of the Philippine Correspondent along with its affiliated surveying firm/companies are currently banned/prohibited from conducting pre-loading surveys in Hinatuan Mining Corporation (HMC) operated by Nickel Asia Corporation (NAC) which also operates Taganito Mining Corporation, Cagdianao Mining Corporation and Rio Tuba Mining Corporation.
IMSBC TML/MC CERTIFICATES
Under the IMSBC Code, the Shipper must provide either the Master or his appointed representative with "appropriate" information about the cargo. This information must be provided sufficiently in advance of loading to enable the necessary safety precautions to be taken so that "proper stowage and carriage of the cargo" can be carried out.
A certificate must also be supplied which certifies both the actual moisture content and TML of the cargo. The TML is derived from the FMP, which can only be determined by laboratory analysis.
Unless the FMP has been determined by a reputable laboratory, it is likely that any documentation tendered by the Shipper will be unreliable.
The interval between testing the FMP and loading must be no more than 6 months, and the interval between testing the actual moisture content and loading must be no more than 7 days.
The Shipper must be required to identify the laboratory where the cargo samples were tested. The number of laboratories which are able to carry out suitable tests on these sorts of cargoes are limited, and here in the Philippines, all representative samples subject of analysis are sent to Singapore.
The Shipper must also be asked to identify the stock piles from which the cargo is to be loaded. He should confirm, in writing, that the samples tested and in respect of which certificates have been issued or declarations made originated from these particular stock piles. All such samples must be tested prior to loading.
The information provided must be in relation to the actual cargo to be loaded. Some shippers have been known to offer moisture certificates which are based on an average of previous cargoes, rather than the cargo actually offered for loading.
POLITICAL ISSUES – Excerpt from Local Broad Sheet News Paper (Philippine Star)
"QUOTE"

COMMISSION ON APPOINTMENT REJECTS LOPEZ AND 3 OFFICIALS – March 12, 2017

MANILA, Philippines – The Commission on Appointments (CA) has effectively rejected four members of President Duterte's Cabinet, including controversial Environment Secretary Gina Lopez.
The Zamoras own Nickel Asia Corp., one of the biggest mining companies in the country.
A Nickel Asia mine in Surigao del Norte is one of scores of mining sites Lopez has ordered closed.

NEW DENR SECRETARY ROY CIMATU PUSHES TO REVERSE MISINFORMATION ABOUT MINING

New DENR Secretary Roy Cimatu wants the mining industry to be put in better light after it suffered from negative publicity and urges the Mines and Geosciences Bureau (MGB) to "produce more output for the good and advancement of mining."

"In the coming days, I would expect that you would produce more output for the good and advancement of mining in the country, which of late has suffered much in terms of negative publicity. It is now time to reverse this and disabuse the public's mind about the many misinformation and disinformation they have heard about mining," Sec. Cimatu said during the launch of the Central Database System (CDS) at the MGB central office".

He also urged the MGB to work harder and work within the bounds of the constitution and law, for the benefit of stakeholders. He expects that his work will be under scrutiny in the coming days. "But as long as we are working with integrity, within the law and performing our mandate well, we will prevail," Sec. Cimatu added.

The MGB, through its CDS, is being attuned to the needs of the public by allowing them to easily access information about the industry as well as the vital services that the MGB offers to the public.

"Let us sustain this effort as this is a big step towards the promotion of transparency in our service. I expect nothing less," he added. (Source: Press release of DENR May 2017)

"UNQUOTE"
Currently, there are no political issues associated with any mining firms following the appointment of the new DENR Secretary, except on the implementation by the President of martial law in the entire island of Mindanao starting on 23rd of May 2017 which shall last for 60 days, or until the proclamation order is lifted/shortened by the President himself upon the recommendation of the ground commanders. The proclamation was due to the raid made by a group of local terrorists called "Maute Group" in Marawi City, Maguindanao (the only Islamic City in ARMM). The group is said to have allegedly been receiving support from ISIS.
Operations of the mining companies are not directly affected by the circumstances, as the implementation of martial law only heightened the security of the neighboring cities of Marawi City.
WEATHER CONDITIONS ETC.
Loading Season starts about the first week of March which is the onset of the dry season in the area although precaution is highly advised due to isolated rains. Loading is carried out in the usual manner by means of barges, wherein said barges come alongside the vessel to have the cargo on it unloaded using ship's gears and directly dumped into the vessel's holds.
Loading in favorable weather condition averages to about 8 to 10 days taking into consideration the efficiency of the crane operators and the ship's gears as well.
On the other hand, wet season at the southeast part of the Philippines, CARAGA region in particular starts late in September when northeast monsoon begins to take effect. Frequent heavy rains under moderate to heavy seas are to be expected.
Loading operations usually averages about 15 days and above depending on the prevailing weather condition during this season. Vessels planning to load nickel ore in these areas should be well prepared as there are no fresh water facilities or bunkering facilities on these locations.
Trust you find the above of assistance.